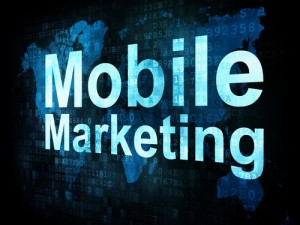 If you haven't noticed, mobile marketing is everywhere. And, as a marketer, if you're not effectively marketing via smartphones and tablets, you're missing out on big opportunities to share your brand with your customer base.
Next year, mobile industry experts predict that companies will pour more than $6 billion into mobile marketing.  To stay competitive, having a well thought out, properly implemented mobile marketing strategy is crucial.
Unfortunately – or fortunately depending on how you look at it – not everyone who is jumping on the mobile marketing bandwagon is doing it right. In fact, the vast majority of companies are still working out the kinks when it comes to leveraging mobile technology.
Top Mobile Marketing Mistakes
1. Taking a One Size Fits All Approach
Just because "everyone" has a mobile device, doesn't mean everyone has the SAME mobile device. iPhones, iPads, Androids, and tablets have unique requirements. Thus, it's important to develop a cross platform approach. This is the only way you can ensure you provide all your customers with the same experience, regardless of device.
2. Not Having a Mobile-Ready Site
Don't even think about mobile marketing if your site isn't compatible with mobile devices. Your customers don't want to navigate all 15 levels of your website. They want information on one page – quick, easy, and accessible!
3. Using the Same Marketing Approach for PC and Mobile
Mobile marketing should take advantage of capabilities of the mobile device. Ask your customers to upload pictures for contests, send videos, or use their location to let them know they are near your store, and to stop in to say "Hi."
4. Using Archaic Web Technology
If you are tech savvy enough to be using mobile marketing, you shouldn't have a website that is stuck in the 90s. The use of frames, fixed screen size, and landscape instead of portrait orientation doesn't translate well to a mobile screen.
5. Creating an App for One Platform
Contrary to popular belief, the entire world does not have an iPhone. If you are creating an app, do so for iPhone and Android. If you don't, you are alienating over 65 percent of your customers.
6. Ineffective Use of QR Codes
QR codes are great, just don't put them on the side of a speeding train. People need at least one minute to scan a QR code, and definitely need mobile access.
7. Not Utilizing Coupons and Discounts for Check-ins
If you are incorporating mobile marketing into your overall marketing plan, give people a reason to engage with you. Reward them with a discount for "checking in" at your store, or provide other incentives that will keep them engaged. Otherwise, they may just be "checking out" your prices and buying somewhere else.
8. Privacy – or Lack Thereof
Mobile devices are personal in nature. They may not realize the powerful analytics you can access as a marketer. Ensure you are following industry regulations and asking for permission before collecting personal information (PII).
Avoid these mobile marketing mistakes by using your mobile apps to build lasting, profitable relationships with your customers.
Social Share