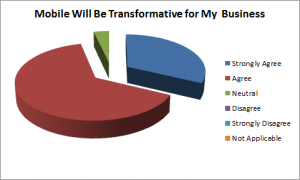 With over three quarters of Americans under 43 using a smartphone, it is increasingly important for businesses – large or small – to integrate mobile into their overall strategy.
According to a recent study conducted by FunMobility and CPGmatters, 96 percent of respondents indicated mobile will transform their business in the coming year.
How Mobile Will Transform Businesses in 2013
Smartphones, and tablets, have become an extension of our being – a third limb, if you will. Considering most individuals keep their phone within an arm's reach, smartphones are a great way to engage consumers and serve as a data goldmine for marketers.
Push Notifications: The New Text Messages
Text messages and email were so 2010. With the rise of iPhones and Androids, push notifications are the future of mobile marketing. Unlike email, push notifications are read by users 97 percent of the time.
However, until recently, there hasn't been a fully automated, intuitive solution for businesses to send push notifications to their customers.
Using FunMobility's Mobile Relationship Management Suite, businesses can instantly – and effortlessly – send push notifications to their target audiences.
Mobile Coupons
Given many customers enter your business with their smartphone intact; mobile coupons are the next-generation phenomena in mobile marketing.
Analysts claim mobile coupon use will rise from 200,000 in 2009 to over 70 million mobile coupons in 2013, valued at over $2.4 billion.
Perhaps the best part is that people are genuinely interested – and receptive – of getting value from businesses through their smartphone.
Powerful Analytics
Imagine tapping into a resource that's always on, always with us, and always connected. Given the breadth and reach of these devices, mobile analytics is the future of "big data" for marketers.
Using mobile analytics, businesses can identify their top influencers, see who's engaging with them, and leverage the data to boost engagement.
What's Your Business' Top Priority for 2013?
With the holidays upon us, the New Year is quickly approaching – 2013 will be here before you know it. Is mobile marketing your top priority in 2013? It should be – you're missing out on an entire generation of consumers if you aren't.
Social Share