Try out this Prize Wheel Nanosite that PepsiCo used to drive new audience acquisition through its QSR retail partners.
Prize Wheel uses custom logic to reward users with a variety of digital "prizes." In this case, we used a variety of interactive coupons for participating retailers. Each coupon was packed with animated timers, locations finders, and more.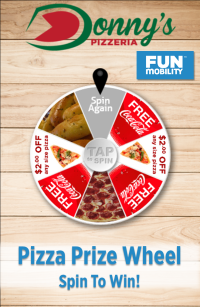 Click here to give the wheel a spin!
Gamified promotions like this Prize Wheel offer a fun way to drive audience engagement and increase conversions. If you'd like to learn more about how FunMobility can help you better engage your audience, fill out this form and we'll be in touch: