Mobile Coupon Fraud: Meet the Bogeyman
Ask any brand or retail marketer what scares them, and one of the top answers will inevitably be "mobile coupon fraud." Digital marketing channels have opened a lot of doors for brands, but when it comes to coupons, there is also a sense of real danger. After all, marketers know better than anyone how easy it is to digitally duplicate something and share it endlessly with the entire world. Without the limitations of physical pieces of paper, how do you limit liability?
Sure, you can focus your mobile coupon strategy on in-app distribution — but that means slicing off a huge amount of potential performance across your other points of discovery. According to Nielsen, mobile coupons are 3x more likely to be discovered on the web compared to in-app.
[Related: 8 Mobile Coupon Stats Every Marketer Should Know]
Tools of the Trade
Fear not, gallant marketers. There are a number of tools available that offer tight control over how digital coupons are shared, distributed, and redeemed. To protect against potential coupon fraud (i.e. where one lucky winner shares or screenshots the image of a high-value coupon), a variety of features are available to marketers:
Animated Countdown Timers
Animated Countdown Timers eliminate the danger of screenshots by adding the visual cue of a timer counting down until the expiration of the offer. Without the animated countdown, the offer is invalid.
These animated countdown timers can be used for a limited time offer (as in the case of a one-day only sale), or triggered at the moment the user engages with the coupon, creating a reduced redemption window to drive urgency.
Unique URLs
To further prevent the unwanted sharing of high-value offers, marketers should create mobile coupons with a platform that automatically generates Unique URLS for each new coupon served.
These URLs are specific to each individual device. If the user attempts to share the unique URL, it will not load the offer on any other device, even if the user copies and pastes the URL directly from his browser window.
Single-Use Redemption Codes
Single-Use Coupon Codes are generated by the brand and ingested into both the marketing platform (FunMobility) and the retailer's POS system. For each unique device that is served the coupon, a different redemption code will load. Depending on the scope of the campaign, marketers can generate as many or as few of these codes as desired.
Once redeemed, these single-use codes become invalid. This process limits the brand's liability to the number of unique codes generated. By comparing the codes served with the codes actually redeemed, it also becomes possible to verify a retailer's POS data and clear the coupon without the need for a physical paper trail.
***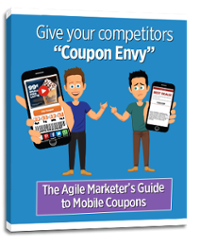 This post is an excerpt from our free eBook: The Agile Marketer's Guide to Mobile Coupons. Check it out if you want to learn about the specific new tools and tactics marketers are using to:
Dramatically Increase Sales
Protect Against Coupon Fraud
Collect Bigger & Better Business Intelligence
Learn how top CPG brands, retailers, and QSR restaurants are winning the mobile coupon arms race, with engaging, interactive, & personalized coupons designed for a modern, mobile audience.
Fill out this form to download the full eBook: