We're excited to announce the launch of our Mobile Coupon AppWidget. This AppWidget adds instant, new capabilities to your app that, in turn, drives customer acquisition, engagement, brand loyalty and monetization.
The Mobile Coupon AppWidget
The Mobile Coupon AppWidget lets you send highly customized and branded coupons, offers and promotions directly to your audience's mobile device. Now, mobile coupons can be integrated into your mobile app, deployed using push notifications, saved to Passbook or your app, and be redeemed in-store.
Mobile Coupon Use is Growing
Consumers worldwide will redeem 10 billion coupons on their smartphones and tablets in 2013, up 50% from last year says Juniper Research.1 That's a compelling reason to start leveraging mobile in your sales promotions. Consumers are also 10 times more likely to redeem a mobile coupon than coupons clipped from print publications. Mobile takes paper clipping out of the picture and makes offers and promotions more accessible to consumers on the go, raising redemption rates.
A Flexible Mobile Coupon Solution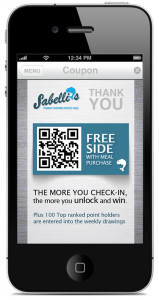 Retailers are looking for a mobile coupon solution that can keep up with evolving standards and technology, offers multiple redemption options and tracks point-of-sale. Our new Mobile Coupon AppWidget does just that. This AppWidget allows mobile coupons to be sent anytime, anywhere and works with any mobile device. Marketers can refine their mobile couponing strategy using detailed metrics for each coupon; like views, click-throughs and redemption tracking.
Easy and Powerful Customization
The Mobile Coupon AppWidget is fully customizable, allowing complete control over offers, messages and company branding. With options like adding a QR code or delivering via SMS text message or ad banners, the Mobile Coupon AppWidget gives marketers ultimate flexibility in how their offers are delivered.
FunMobility's Mobile Coupons supports key industry initiatives like the MMA's Mobile Coupon Ad Unit Standard. AppWidgets are the heart of FunMobility's offerings.
Learn more about the Mobile Coupon AppWidget or view the entire AppWidget catalog.
1 source