Recent studies show a proverbial meteorite heading for the world of brand marketing: 90% of the biggest consumer brands spent the past year hemmoraging sales. Here is a quick overview illustrating:
Just how bad the problem really is
The new market factors causing the shift
How some brands are turning this situation into a major win
5 Minute Read
Point 1: Catalina's mid-year review reports 90 out of the top 100 brands lost market share this year to smaller private brands, dropping roughly 4.4% of sales ($26 million bucks per brand). For some verticals, like frozen food CPG brands, average losses were twice that bad.

Catalina also reports that brand defection is outpacing category growth:
"The average Top 100 brand retained less than half of its highly loyal shoppers last year. Fifty-five percent of highly loyal shoppers either reduced loyalty or completely defected."
In other words, consumer loyalty is quickly becoming a lost art. The majority of shoppers became less loyal to existing brands, and nearly 1 in 4 (23%) of "highly loyal" shoppers defected from top brands last year:
[WEBINAR] Mobile-First CRM: Convert and Engage Your Owned Audience 
Marketers Aren't Evolving to Meet Consumer Needs
Okay, so the situation clearly isn't looking great for the big brands. But how are brand marketers responding? With even MORE focus on traditional tactics; spreading themselves thinner and thinner in the retail space:
More skus
Lower prices
More availablity
More convenience
The irony is, this focus on "traditional" purchase drivers is the core reason why big brands are losing all that market share in the first place. Think about the last time you bought ice cream at the supermarket:
Titanic brands are still doing things the traditional way, packing the shelf with countless new flavors in bigger packaging at lower prices — but they lost nearly 8% of market share last year to small, emerging brands. At first glance, these tactics seem like common sense, but, according to this report by Deloitte, such tried-and-true tactics simply don't matter the way they used to.
Brand Marketers are ignoring the new factors that are actually causing this shift in market share. Traditional purchase drivers like price, convenience, and taste are giving way to new considerations like experience, transparency, and authenticity.
Steve Frenda, the Managing Director at the Path to Purchase Institute (@stevefrenda1), summed up this disconnect between yesterday's marketing tactics and today's purchase drivers:
"If the largest U.S. brands cannot grow share through traditional media, it is clear that the traditional formula is not working."
Here's the scariest part:
If you look at the age breakdown Deloitte provides of exactly who these new purchase drivers matter the most to, it's exactly who you'd expect: younger shoppers. Shoppers 18-34 are 2x-3x more likely to purchase based on factors like brand engagement and social impact. In other words, the mass brand defections we saw in 2015 were just the canary in the coal mine. As this younger generation increases in size and relevance, things are just going to keep getting worse for traditionally-marketed brands.
You put these stats together, and the writing is on the wall: Brand marketers need to stop relying on traditional tactics if they want to stop hemmoraging customers every year.
Every Brand Now Has Two Audiences
Deloitte suggests brands break their audience down into two categories: Traditional and Evolving.
Traditional consumers (approx 49% of shoppers) are more likely to be swayed by marketing coming from traditional channels like TV, radio, and print. Purchasing decisions are generally based on three factors:
Convenience
Price
Taste/quality
Evolving consumers (approx 51% of shoppers) are more responsive to digital sources, social media, and mobile content. They make purchases based on these five factors:
Experience/engagement
Transparency
Social Impact
Health and Wellness
Safety
These two audiences are both pretty evenly represented across geographic and socioeconomic divisions, meaning factors like household income and rural vs. urban settings don't seem to affect whether or not someone is a traditional or evolving consumer.
How to Revive the Brand/Audience Relationship
From marketing guru Seth Godin (@ThisIsSethsBlog):
"Content Marketing is the Only Marketing Left."
In other words, the only form of marketing that matters to today's evolving consumer comes in the form of relevant & engaging content.
The key to driving purchases and loyalty through these evolving consumers lies in a marketer's ability to engage his or her audience with relevant content: personalized offers, fun & games, and useful content marketing like recipes, videos, and how-to guides.
For instance, a recent survey from Inmar found that 35% of consumers actually want brands to send them helpful content like interactive recipes and how-to guides. That stat aligns with what we've seen from our own clients at FunMobility, with interactive recipe campaigns seeing sky-high engagement numbers, particularly through mobile web and email channels.
[RELATED] CASE STUDY: CHIQUITA NEWSLETTER
Here's a real-world example of engaging content driving purchases: last year, produce giant Chiquita made the decision to dramatically update the way their brand engaged shoppers. Chiquita hired FunMobility to create an interactive cross-media experience filled with fun and relevant content, leveraging the brand's partnership with Universal's Minions films.
This content-driven approach helped Chiquita:
Increase total sales 7.1% ($51.6 million)
Reduce cost of sales by 11%
Triple their number of email newsletter subscribers
Drive 237,000 hours of consumer attention
[RELATED] CASE STUDY: CHIQUITA MINIONS PROMOTION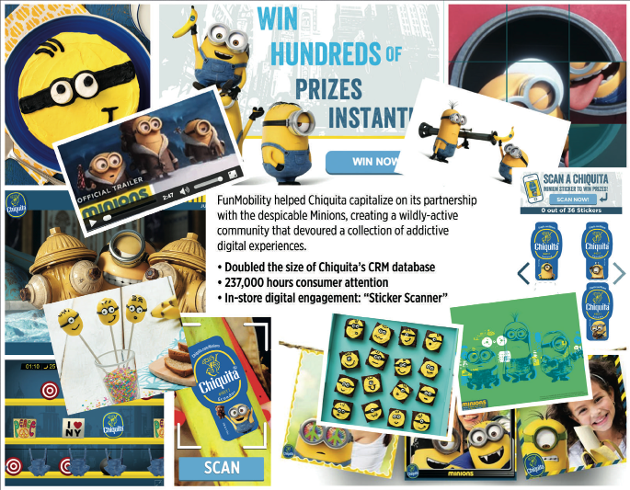 [RELATED] FunMobility and Chiquita win Mobile Marketing Association Global Smarties Award for Cross-Media Mobile Integration.
***
Want to talk about injecting Rich Mobile Experiences into your next campaign?