Watch our latest Fun U video: Promote Mobile Only Deals In Store by Pat Murphy.
Here's are couple of interesting stats: 75% of Americans admit to bringing their phones to the bathroom and by the end of this year, mobile is predicted to overtake desktop internet usage. The stats underscore the fact that the key to future success for retailers is adapting to and optimizing for the mobile market.
With that said, here some of the secrets and best practices from retailers who use mobile only deals to attract new customers in store and grow their SMS opt-in list.

Promote mobile only offers using in store signage & other print media. Display colorful in-store signage containing SMS & QR codes. Place them at the entrances and exits, cash registers, and aisles.
Engage your customers with them by asking them to send an SMS text message from their smartphones in order to receive instant coupons. They can then redeem these at the checkout counter. It's a great way to keep your customers happy, expand your mobile subscriber list, and instantly increase sales.
Grow your SMS opt-in list with mobile only promotions using email. An SMS opt-in customer is 5x more valuable than a customer who has opted in to email campaigns. SMS marketing has far better response rates than email marketing. Whereas consumers have multiple email addresses, they only have one mobile phone number.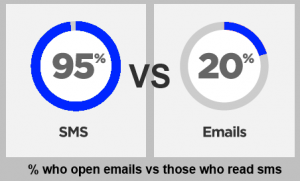 So if you don't have an existing SMS opt-in list of mobile phone numbers, use your existing email loyalty list to grow your SMS opt-in list. Since majority of emails are opened on mobile devices, a "text-to-short code" call to action would be enough to convert an email subscriber to a SMS subscriber, so long as there is compelling value added for the consumer.
Don't forget about your website & social sites. Your website needs to be mobile optimized. Once you have that in place, you can promote your mobile campaign on your site as well as every relevant social media platform available. Text-to-short code campaigns can be used on your website to increase your SMS opt-in list. You can also place a mobile promotion, like a mobile coupon, directly on your website which would allow your consumers to clip the coupon to their phones and redeem it in store.
Since 65% of time spent on social networks happens on mobile, according to ComScore, mobile promotions that don't integrate social media are doomed to fail. This is even more valid when considering the fact that while only 14% of people trust ads, 76% of people trust consumer recommendations. Include your mobile promotions on your Facebook page, Twitter posts, blogs, YouTube channel, etc. All of these venues carry with them the potential for sharing.