Watch Adam Lavine, Founder and CEO at FunMobility, as he guides you through understanding HTML5, the pros and cons of a hybrid app vs native app vs a web app, SMS, push notifications, and how it all fits together with FunMobility's Mobile Promotion Software.
As a marketing leader for your business, you have probably heard about HTML5, which is the next evolution of HTML. HTML, or Hyper Text Markup Language, forms the backbone of most every site on the web. HTML4 was the previous major iteration of HTML, and it debuted in 1997. With the demands of the new web, however, it became apparent that updates were necessary to handle the demands of the modern, vibrant web experience.
HTML5 is the latest iteration of HTML (Hyper Text Markup Language) and is the new standard for all good web developers and browser vendors, by providing a great experience on both desktop and mobile devices.
As Adam Lavine explains in the video, with HTML5 "you can access content through your mobile browser, without having to download an application."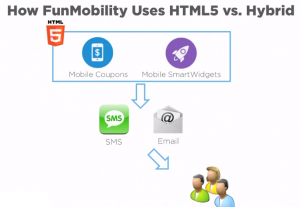 The main reasons the mobile developer community support HTML5? Reduced development time, delivery to all platforms (desktop, laptop, tablet, smartphone), and the visual styling and user experience your audience expects.
Why does HTML5 make sense?
Whether your audience is browsing on a desktop, a laptop, or mobile device such as a smartphone or tablet, HTML5 provides the best experience. Mobile Promotions with HTML5 delivers an improved customer experience throughout the spectrum of mobile vendors, allowing you to deliver content – your product and your service – to a wide array of devices.
Comparing the technology
As you will learn in the video, there are 3 types of apps. There are native apps, hybrid apps, and web apps (also called web pages). The native apps and web apps each have unique SMS and email deliver capabilities. However, apart from each other, they both present unique problems. FunMobility has solved that with our hybrid apps, which offer the best of the native app benefits, and the best of web apps features.
With the addition of new devices working on multiple mobile operating systems, and the constant updates to native apps, the hybrid app solution is proven to be the best for organizations to scale their marketing efforts.
The Bottom Line
The bottom line is that HTML5 is mobile friendly and provides the best of both worlds. Leveraging HTML5 with FunMobility's hybrid app SmartWidgets provides your business with the ability to provide the easy-to-use experience of an app, with the functionality of a web app. There is industry-wide support from the developer community to device and browser vendors and is a great way to bring content closer to the user.
With the easy-to-use FunMobility Mobile Promotions, your mobile promotion marketing campaigns will up and running in no time. Remember, unlike other SMS mobile solutions, FunMobility Mobile Coupons are built to support leading industry standards and best practices, and are TCPA compliant.
For more information, and for a free demo, please contact us today!