The question of what's better, mobile web or native app, has been debated ever since Apple released the original iPhone 1G. Initially, native apps were all the rage, in part because of the success of Apple's App Store as well the slow speed of the mobile web (The original iPhone used EDGE technology). Mobile web hadn't evolved yet to be able to provide the same fluid user experience as native apps.
Today, marketers should be using both native apps and mobile web as part of their mobile marketing strategy. However, the two should not be seen as interchangeable. Mobile web has its uses and native app has its own place. The decision depends not just on how easy or difficult it is to develop a native app vs mobile web promotion, but on factors that ensure high performance throughout the customer value chain.
These factors include your window of opportunity, desired user experience, value of dynamic performance, and the agility to maintain and update the application, or information it contains.
To help with the decision, let's look at the advantages and the disadvantages of each, and how this applies to your unique strategy for success.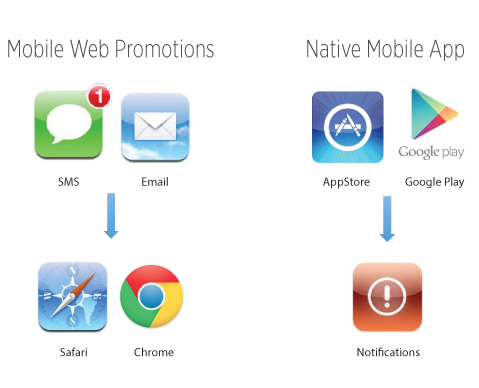 Mobile Web and Native Apps
A Native App is an app developed for mobile devices, with a specific platform in mind. It's downloaded and installed directly onto the device from the App Store, Google's Play, etc.
A Web App is an Internet-enabled app that is accessible via a mobile device's web browser, and it's a unique version of the website, resized to fit a mobile device screen. These do not need to be downloaded onto the user's mobile device to be accessed.
Mobile Web
For many businesses today, the mobile web is a practical first step in their mobile promotion strategy. Mobile web promotions have a number of inherent advantages over native apps, including broader accessibility, compatibility and ability to add and remove content on the fly. This enables marketers to publish targeted mobile content without the need for app submission and approval.
Here are the advantages of mobile web:
Perform on most, if not all smartphones
Demand lower initial investment, shorter development time
No app approvals required
Easier to maintain with a common code base across multiple mobile platforms
Less of a need for large hardware requirements such as a fast processor, or more memory
Easier to integrate into existing CRM, marketing & BI systems
Can be released at any time and in any form to rapid deployment
Here are some of the disadvantages of mobile web:
Operation is based on web resources, requiring web connectivity to function optimally
Difficult to discover, as it is not listed in any app store
Native Apps
Despite some of the benefits of mobile web, native apps are very popular, and there are a number of specific use scenarios where a native app will be your best choice.
Native apps provide access to distribution channels in Apple App store or Google Play and purchases are processed from user's store account, which can speed the process of making transactions.
These are some of the advantages of native apps:
Easy to discover using a device's app store
Slightly faster performance
Works with mobile device's built-in tools and toggles, all familiar to the customer, like taps, rotation, GPS, and Camera
Here are some of the disadvantages of native apps:
Expensive to develop, and modify
Competing with millions of other apps
Require app store approval to publish
Takes longer to engage (download, install, launch, etc)
Device must have robust device memory and storage
Can not reuse code between platforms – you must have different knowledge for each platform: Java (Android), Objective-C (iOS), and Visual C++ (Windows Mobile)
The Bottom Line
Whichever you chose, native apps, or web apps are all excellent ways to deliver great content and interact on a personal level with the mobile device user. As listed above, each of these app delivery platforms have their strengths and weaknesses. The choice of one versus the other depends on your business's unique needs.
To decide if you want to develop a native app or go the mobile web route, you should consider:
How important is speed and performance?
Do you want your app to include any device-specific features?
Do you want your app to be web-enabled and is that a requirement?
Will it need to support multiple mobile platforms and devices — if so, how many?
Your budget & timeline
Each of these have their unique benefits. Which is most appropriate for you will vary based on your company's specific requirements. An excellent starting point is to ask whether users are specifically completing a task, or accessing information.
To help with your decision, please connect with one of our mobile web promotions experts at sales@funmobility.com.