"Diet-Digital?"
A few years ago, "mobile" was viewed by digital marketers as a side channel; a sort of "diet-digital" that was marginalized because of smaller screen sizes and a less mature marketing ecosystem. Fast forward to the present, and mobile is the alpha dog of the digital pack:
2/3rds of marketing emails are opened on mobile devices (eMarketer)
80% of social media engagement happens on mobile (comScore)
Mobile is the only game in town for Rich Push and SMS.
60% of Google's ad revenue comes from the mobile web (eMarketer)
And yet, while mobile is undeniably the primary source of consumer attention, marketers are largely floundering when it comes to successfully engaging their audience in the mobile space.
This post will cover special considerations for delivering mobile experiences through your marketing cloud, and then show you some successful examples of how this has worked for brands using email, rich push, and SMS.
What's Different on Mobile?
"Experience is the new marketing."

-Steve Cannon | Mercedes Benz USA President and CEO
Mobile users have approximately the same attention span as a housefly. In this regard, your mobile audience is the opposite of your desktop audience, who are more prone to casual web browsing or research. Mobile users typically just won't stand for any text-heavy or time-consuming marketing content.
Marketers should instead focus on experiences that leverage instant gratification and interactivity.
"Micro Moments"
Way back in 2014, Julie Ask defined the term "Mobile Micro-Moments" in a Forrester report, "Micro Moments Are the Next Frontier for Mobile:"
"Simple triggers spur consumers to take action, both on devices and in the real world. The triggers that create micro moments must be timely, simple, and hyper-relevant… Make it easy for a customer to react in an instant."
To successfully execute these "micro moments," marketers need to engage their audiences with lightning-fast bursts of activity that deliver instant gratification and value. There are three factors to consider when building out mobile-first marketing communications:
Audience – Who is this for?
Experience – What do I want them to do?
Incentive – What's in it for them?
Incentives can take many forms, depending on your vertical and/or the nature of the promotion:
Deals/cash value
Entertainment value
Social value
Information/Education value
Content that is personally meaningful to the end user
The success of a mobile campaign depends how well these three factors coalesce: how relevant is your incentive to your audience, and is it enough to motivate engagement?
Here are 3 examples of how major brands have been wildly-successful with mobile micro-moments across email, rich push, and SMS:
Email Case Study: PepsiCo & Round Table Pizza
PepsiCo had great success earlier this year using mobile-first digital experiences for email. In partnership with Round Table Pizza, Pepsi built a huge library of fun & interactive experiences like games, quizzes, surveys, micro-sweepstakes, and even seasonal experiences like a branded card-maker for Father's Day — all of which resolved in digital coupons.
Click here to read the full case study
Emails with links to these different experiences were delivered to the retailers' database. By integrating the Digital Experience Platform into the brand's marketing cloud, Pepsi was able to track which individual users were engaging with which types of experiences, and then automatically personalize future messages for different audience segments based on their past behaviors.
This led to a dramatic increase in digital coupon redemptions, driving 8x ROI for the campaign.
Rich Push Case Study: L'Oreal
L'Oreal used Digital Experiences to engage mobile app-users and increase eCommerce conversions for its Carol's Daughter brand by 4.5x.
Click here to read the full case study
Rich Push messages included links that directed app users to a fun, interactive quiz ("What's Your 'Hairsonality?'"), which branched off to deliver personalized, highly-relevant product offers based on the individual's responses.
More importantly, this experience helped the beauty brand segment its audience, also increasing the conversion rate for all future rich push messaging by delivering product news and promotions that were relevant to each individual app user.
SMS Case Study: Ace Hardware
After growing a sizable SMS list with a variety of in-store acquisition tactics, Ace Hardware combined digital experiences with SMS blasts to drive a huge increase in average art size.
Each SMS blast included links to interactive coupons and helpful content like how-to guides, videos, and store finders. The brand then tailored these experiences to fit the needs of specific markets (i.e. customers in California were sent digital experiences relating to drought preparedness).
Click here to read the full case study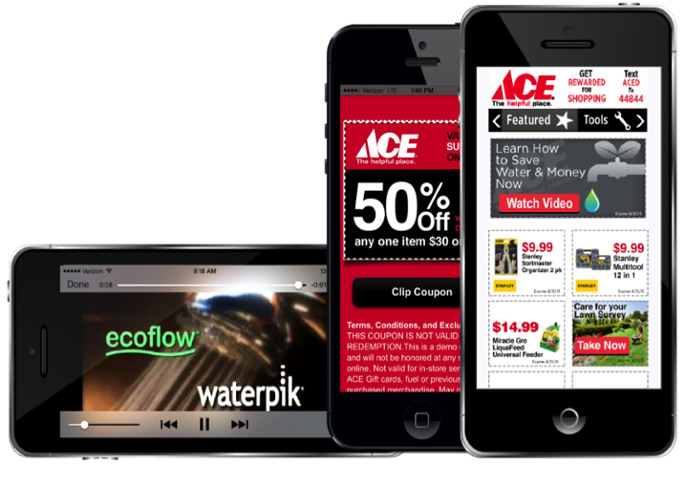 By tracking coupon redemptions sent via these SMS blasts, Ace was able to determine that the shoppers receiving these SMS experiences drove 6x average cart size vs. what is typically seen in the hardware vertical.
Learn more about how DXP can help you build, publish, and track engaging digital experiences for your marketing cloud: