FunMobility recently attended Marketo Summit 2013 in San Francisco. Marketo, the industry leader in marketing automation software, was pleased to bring  strategic guidance, best practices and unique ideas to marketing professionals from across the nation.
Marketo's new app delivers the latest news and brings Marketo content to their audience's mobile devices for the first time. Users of the app can now receive Marketo's exclusive Definitive Guides, Cheat Sheets and Success Kits as well as the latest blog and news articles and keep up with upcoming events.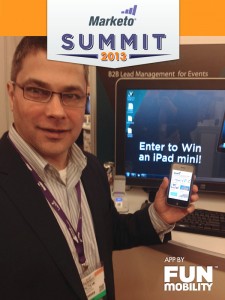 We were excited to work with Marketo in promoting the app's launch by distributing iPhone-shaped cards announcing the app.
The Marketo app is free to download and available for Android, iPhone, iPod and iPad. Users can also download the app to their mobile device by texting 'MARKETO' to 51515.