Here's one of the Interactive Recipe Nanosites Chiquita uses to engage its target audience of mothers with children ages 4-12.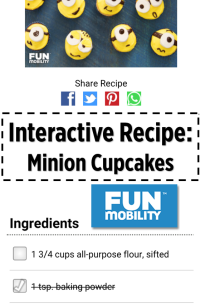 Click here to check out the Minions
Cupcakes Recipe!
A recent survey from Inmar found that 35% of consumers actually want brands to send them digital content like recipes and how-to guides.
Unlike static recipe pages, these interactive recipes encourage consumers to check off the ingredients they need from the store, and then automatically email themselves a custom shopping list.
This feature drives email acquisition to grow your owned audience, and works as a great incentive to increase engagement across email, web, social media, and display advertising.
If you'd like to learn about the results these recipes drove for Chiquita, or if you just want to chat about how FunMobility's fun & engaging digital marketing solutions can help you drive new audience acquisition, fill out this form and we will be in touch: